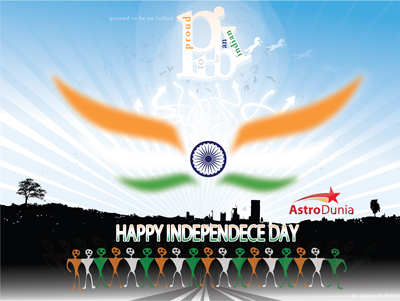 We Wish You A Very Happy 68th Independence Day!
Jai Hind! 
Get a 25% discount on occasion of Indian Independence Day.* Applicable on payments made by Monday (18th August 2014)
CALL: +91-9301717647 / +91-9669919000 FOR DETAILS
Stock Markets Around the globe
Today, global equities are expected to remain positive.
US market shall close at top.
On Monday, markets are expected to be positive.
However from Tuesday, a sharp correction is expected in global equities.
The next week is bad for stock market (from Tuesday to Friday).
Book profit in S&P500 at closing or you can hold long position for Monday as well.
Asian & UK market shall close positive.  
TRADING RANGE:
-        DOW FUT: 16,640-16,750
-        S&P500 FUT(SEP): 1,948-1,965
-        NASDAQ FUT(SEP):3,955-3,995
-        FTSE FUT: 6,650-6,750
-        CAC FUT : 4,200-4,245
-        DAX FUT: 9,220-9,300
-        HANG SENG:24,700-25,050
-        AEX:394-400
PRECIOUS METALS
Bullion shall be range bound.
The next week is highly bullish for Gold & Silver (especially from Tuesday).
Silver as well shall witness a good bull trend in next week.
This positive trend shall continue for next week.
CRUDE OIL
Crude OIL shall be range bound for the day.
From next Tuesday, Crude Oil shall enter highly bullish trend.
 NATURAL GAS
NG went up to 3.92 last day. It is supportive for today as well.
Trading Range:
-        CRUDE: 95.20-97.00
-        NG: 3.84-3.94
  CURRENCIES
EURO
It is advisable to buy EUR/USD at lower levels.
INDIAN RUPEE (USD/INR)
HOLIDAY
DOLLAR INDEX
Sell dollar index on rise.
 TRADING RANGE:
- EUR/USD: 1.3340-1.3420
-USD/INR(SPOT):HOLIDAY
-DOLLAR INDEX: 81.75-81.45
US 10 YR-TREASURY BOND
Around 2.45, BUY 10 YR TREASURY BOND.
In next week, bonds shall shoot up (after Monday).
TRADING RANGE:
-US 10 YR T BOND:2.39-2.45